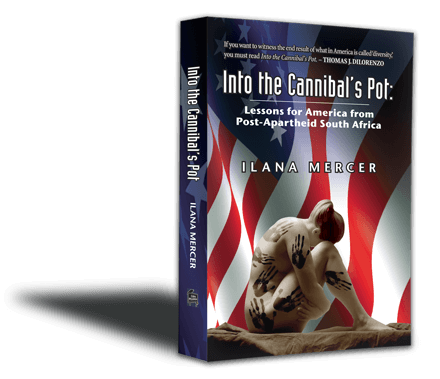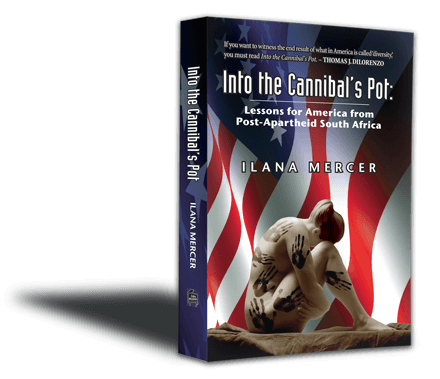 Into the Cannibal's Pot:
Lessons for America from
Post-Apartheid South Africa
"If you want to witness the end result of what in America is called 'diversity', you must read 'Into the Cannibal's Pot'."
– Thomas J. Dilorenzo
Read More →

LATEST ARTICLES
Incompetent, Imperial Neocons And The Permanent State (Part 1)
Following the show of incompetence at the Democratic Iowa caucus, columns on competence proliferated. One stood out for its ineptness: "Make America Competent Again" by David French at the Dispatch. Mr. French is an attorney and decorated Iraq War veteran, who was prominent among National Review's "Against Trump" writers.
30 Years Since F. W. de Klerk's Great Betrayal
In what should serve as a lesson for Americans today, recall that 30 years ago, on February 2, 1990, F. W. de Klerk, South Africa's last white president, turned the screws on his constituents, betraying the confidence we had placed in him. I say "we," because, prior to becoming president in 1989, Mr.
How Democracy Made Us Dumb | Ilana Mercer
[
Subscribe
]
LATEST BLOG POSTS
"No, it's not correct. It's not correct to say that."—Anthony S. Fauci, M.D., to Laura Ingraham Finally, a Fox News guest stands up to Laura Loud Mouth Ingraham—who always ends up drowning out her guests. Dr. Anthony S. Fauci, whose credentials are i
China's "wet markets" are hell on earth for animals: They are tied up, stacked in cages and slaughtered on the spot for "freshness." Here is an objective news report-–yes, these still exist—of the nature of the typical Chinese "wet market" scene, whe
New column is "Incompetent, Imperial Neocons And The Permanent State (Part 1)." It's now on WND.COM and the Unz Review. An excerpt: Mr. French, on the other hand, appears to take a bow for a philosophical bent that belongs to classical conservatism: