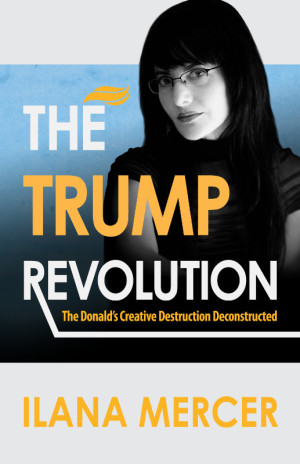 The Trump Revolution:
The Donald's Creative Destruction Deconstructed
(Forthcoming, June 2016)
From the Introduction:
"Donald Trump is smashing an enmeshed political spoils system to bits: the media complex, the political and party complex, the conservative poseur complex. In the age of unconstitutional government—Democratic and Republican—this process of creative destruction can only increase the freedom quotient."

Latest & Greatest Articles
ET Analyzes Paris/Belgium Attacks & Weeps For The West
"Every other people aside whites is allowed to claim and keep its corner under the sun. Dare to suggest that China, India, Saudi-Arabia, Yemen, Japan, or South-Korea open the floodgates to aliens who'll disrupt the ancient rhythm of these countries—and you'll get an earful. Yet this is what Anglo-Americans and Europeans are cheerily called on to do." [Read On].
Contribute
To ease the lady's load (here's why), make a one-time or monthly contribution by clicking on the appropriate PayPal button.