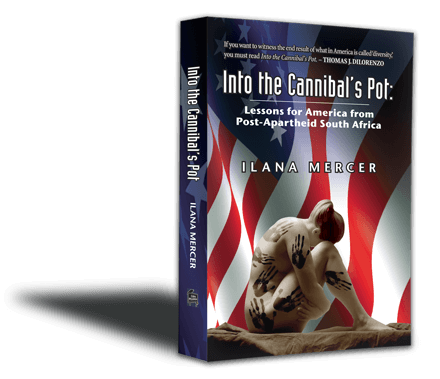 Into the Cannibal's Pot:
Lessons for America from
Post-Apartheid South Africa
"If you want to witness the end result of what in America is called 'diversity', you must read 'Into the Cannibal's Pot'."
– Thomas J. Dilorenzo
Read More →

LATEST ARTICLES
THAT KISS
There was a reason this Canadian expatriate has been missing Canada of late. In particular, the every-day normality of its local CTV News. Often so apolitical, Canadians are always less eager to feature the caterwauling of politicians than cover the joys of a cat rescue. Or a kiss. How natural,
Guess Which Surrender Monkey Won the Battle Of The Monuments?
Steve Hilton is a Briton who anchors a current-affairs show on Fox News. Mr. Hilton made the following feeble, snowflake's case for the removal of the nation's historically offensive statues: It's offensive to our Africa-American neighbors to maintain statues in public places that cause not only offense,
Ilana Mercer Joins Guest Host Colonel Mike On The John Fredericks Radio Network (7/2/020)
[
Subscribe
]
LATEST BLOG POSTS
"Let us … toast Thomas Jefferson—and the Anglo-Saxon tradition that sired and inspired him."—ILANA MERCER, July 4, 2019 The Declaration of Independence—whose proclamation, on July 4, 1776, we celebrate—has been mocked out of meaning. To be fair to th
NEW COLUMN IS "H.L. Mencken: Misfit In 21st-Century America." It first appeared in American Greatness (which is shaping up to be the most courageous webzine on the intellectually honest, hard Right). The column is now on WND.COM and the Unz Review. A
A media person made a ponderous comment on Twitter about the tiff between Seattle Mayor Jenny Durkan, who "transmitted a letter to the City Council, urging members to take action against Councilwoman Sawant." In response, I summed up the empty fracas